My new-new patio! It was my first summer project, and my last. I expanded the original due to my rapidly-growing brick collection.
Over the years I have had a very humble collection of lovely old bricks (many of which I lost several moves ago). And now that I aspire to become a genuine brick collector, I have been patrolling northeast Ohio with my eyes alert and a sturdy old milk crate hose-clamped onto the back of my bicycle. Once you set your eyes to the right frequency, you see them everywhere! Old clay bricks are beautiful. I remember an old house-mate of mine in Cambridge, Massachusetts, Wendy, had a brick with the clear indent of a thumb. "The guy took it out of the kiln too early," she told me.
And so I have cobbled together a humble little mosaic of local history.
By the way, if you are impressed with my collection, you are NOT a serious brick collector. However you will be permitted to enter the sacred temple of brick collecting through many an arched portal. Here are some of my favorites:
https://www.facebook.com/groups/445932502244810/
https://brickfrog.wordpress.com/
http://brickcollector.blogspot.com/
https://bricksofohioblog.wordpress.com/about/
*           *          *
To justify this obscure hobby, I'll quote from some of the fine and thoughtful writers on a couple of these sites. Here is Jim Ellison of bricksofohio:
Bricks may seem as boring and mundane as can be.  But not all bricks are created equal. There was a time when Ohio was a brick powerhouse for the state, the nation and the world.  Back in the golden era of, the kilns of Eastern Ohio were constantly firing to meet the nation's never-ending hunger for fire bricks and street pavers.  From the 1880's to the late 1930's billions of bricks found their ways to the streets and buildings far from their rural roots.  They don't make them like this any more…they can't. The time and expense to craft one of these by hand, glaze them with salt and stamp them is too labor intensive to make sense or cents.

I never thought much of bricks until I started the learn their lost history and came to respect the craftsmanship that made them.  Even though billions were laid and paved the majority have been lost to time – buried under layers of asphalt or dumped in landfills and forgotten.  These are the stories of my discoveries and how I came to appreciate these heavy hunks of heritage and why I made the time to pull history from the muck.
And here's a passage from a very nice essay posted on The Daily Kos by a writer who goes by the name of Kieth390. In the 1870s, he writes:
The country set about upon a rapid period of brick street paving which didn't let up until around the mid-thirties, with the advent of less expensive asphalt paving.  Yet, many of these streets do remain…a testament both to the craftsmanship of the workers who laid them and the durability of the bricks themselves.  One community in New York recently underwent a major street renovation project to address utility and other underground infrastructure concerns, and discovered brick streets under a 6 inch layer of asphalt that bore the stamps of Metropolitan Brick Co. of Canton, Ohio.

Brick streets last.  They aren't prone to potholes.  The bricks themselves, though not initially designed to withstand truck traffic, have proven themselves to be amazingly resilient. Of the original urban streets first paved in brick, many, many towns can still point to blocks within their jurisdiction that are still there…still bearing traffic. Still lending a sort of charm to their neighborhoods or downtown districts.  Many others have long ago been either torn up or paved over.
By the way , I wish I could credit the writers of these two passages. I haven't been able to find their names. But if I can I will give credit to these two fine writers!
*           *          *
With the help of brick enthusiasts from around the country, I have tried to identify my bricks, to figure out who made them and make a rough guess for when. I've had especially useful help from the CrazyAboutBricks Facebook page. Thanks to neighbors Valerie Crowley and Robin McIntosh for jump-starting my collection. The Living in Shaker Heights Facebook page was a valuable resource, as were neighbors on Nextdoor.com. I have come to admire many fellow brick collectors that I have found online. Jimmy Dobson, of Midland, Texas is amazingly knowledgeable about bricks in Ohio. Bill Tighe is, I am certain, one of the finest collectors in northeast Ohio. They call him "the Brick Whisperer." He's so good he finds bricks when he goes kayaking. And brings them home! Jean Bear is, in my estimation, a great authority on the entire northeast of the U.S. And I hope that I have become, in this summer of brick collecting, one of the top ten brick collectors in northeast Cleveland Heights.
What follows, for anyone who is curious, are the brick companies with brands marked on the bricks of my patio:
AETNA STEEL (fragment)
Aetna Steel brick made in Oak Hill, Ohio by the Aetna Fire Brick Company. 1873-1963.
BELDEN
Belden Brick Company, Canton Ohio
BESSEMER BLOCK YOUNGSTOWN OHIO
Bessemer block made by Bessemer Limestone Company of Youngstown.
The ad to the right is from 1916.
BUCKEYE
"Buckeye Paver" made by John Kline Brick Company of Wickliffe, Ohio. Carrying two of these large paver blocks is what broke my bike's front basket. So then I attached a milk crate over the rear wheel. I found this brick by the blacksmith shop (left) by Rockefeller's stables at his summer estate, now Forest Hill Park in East Cleveland.
CAMP
H. H. Camp brick company, Akron, Ohio
CBMA
The"wheel and pulley" logo assured that the brick was made up to the high standards of the Common Brick Manufacturers Association. According to legend, if you failed to pay your dues, the CBMA would send enforcers over to your shop and they would make you chisel out the logo in each and every brick.
CBS
Cleveland Builders Supply, Cleveland. Also . . .
"F" and "G"
These were made at different plants of Cleveland Builder's Supply, Cleveland. Bill Tighe explains that Cleveland Builder's Supply started using the hexagonal frog (indent) when they merged six companies.  Of the six varieties, the "H" brick is the rarest and most coveted by local collectors.
CD B CO   /   AKRON  O
Cleveland Brick Co. (but made at their Canton operation)
CLAYCRAFT
Claycraft Brick Company, Gahanna, Ohio.
The Claycraft Brick Company was on the east side of Columbus, not far from today's Port Columbus airport. Today, it's an industrial ghost town, mountains of rubble, shattered, crumbling buildings, ghastly, ghostly one-hundred-foot-long brick ovens. 1896-1928, when the asphalt tsunami smothered the brick paver industry. The intrepid folks at Forgotten Ohio have an excellent piece about it. Below is a picture from their article, along with their caption:
CLAYMONT
Claymont Brick Co., New Cumberland, West Virginia
CLEVELAND BLOCK 1909
COLLINWOOD
Collinwood paver block, Collinwood, Cleveland.
CULLEN
Cullen Bros. Brick Co, of Cleveland, Ohio.
or? Cullen was made by Marion Cullen in New Cumberland, WV.
DARLINGTON and DARLINGTON ROYAL GRAY
Darlington Brick Company of Darlington, Pennsylvania. These bricks have a lovely alabaster color.
GRANITE BLOCK AKRON
GYN (fragment)
The Gynn Brick Company of Cleveland was owned by Mrs. E. Gynn after her husband died. Mrs. Gynn eventually sold the operation to Superior Brick Co. of Cleveland, which thereafter put a simple "G" on the bricks from the plant. (See Cleveland Builders Supply.) But it's kind of amazing that the prefix for female "GYN" is on a brick made by the only female-owned brick company. I prefer to believe that the missing letters would spell out GYNOPLINTH, which would derive from the ancient Greek for "woman's brick" …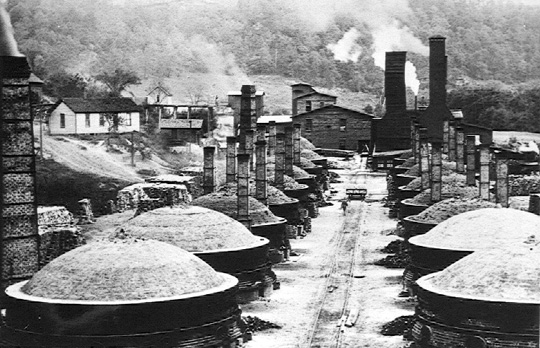 HOCKING BLOCK
Hocking and Athens Counties may seem out-of-the-way, but they had all the ingredients to be a major brick-producing region: excellent clays, good quality sand, nearby coal to feed the kilns, and a major river to ship out the finished product.
MALVERN BLUE GRANITE
Malvern Clay Co. in Malvern, Ohio.
MASSILLON  S. & F. B. Co. / MASSILLON, O
Paver by Massillon Stone and Fire Brick Company
METROPOLITAN BLOCK / CANTON, O
Metropolitan Block Company, Canton, Ohio. The ad at left is from 1905.
MEDAL C BLOCK
Medal Brick and Tile Company, Cleveland, Ohio
MOUNT SAVAGE STOKER
Union Mining Company, Mount Savage, Maryland. A fire brick.
NELSONVILLE BLOCK
and also: "Bullseye Paver"
Nelsonville Brick Company, in Athens County, Ohio. These blocks are shiny. The are called  "vitrified" clay because they develop a glassy, glaze-like finish. I believe this is done by shoveling salt onto the bricks before the firing and/or during the cooling. The salt reacts chemically with the clay to vitrify the brick. The "bullseye" pattern on these sidewalk blocks was reputed to make for good traction with shoe leather.
The Nelsonville Block pavers are legendary in brick history circles. You rarely see one that's not in good condition. Among the best ever made!
NEWBURGH
Newburgh Brick and Clay Company, Cleveland, Ohio
NOVELTY
Novelty Block of Newcomerstown, Ohio
OHIO
Ohio Brick Co. of Toledo
F PRICE
Brick expert Jean Bear thinks this one may actually be by F. P. Rice, a brickmaker in Connecticut. She adds that it "has the look of a New England brick."
S&F B CO
S. & F. Brick Co.  Sayre and Fisher Brick Company, Sayresville, New Jersey, on the Raritan River. One of most prolific brick manufacturers in the northeast.
STANDARD
Cleveland, Ohio. This is a "fire brick." It achieves the yellowish color from being fired in the kiln for longer, at higher temperatures than building bricks. This makes it suitable for hot places: like being part of an oven or kiln.
SUPER and S B CO
Superior Brick Company, Cleveland.
SUGAR CREEK, O
Sugar Creek, known as "Little Switzerland of Ohio," is in Tuscarawas County, south of Canton. I only have a fragment here, missing the S. But the complete Sugar Creek brick is rare and highly prized. Bill Tighe sold a mint condition one at an auction for $80.
TOWNSEND BLOCK  Z. O.
T.B. Townsend and Company, Zanesville, Ohio.
W. W. CO.
(Haven't figured this one out yet. I suspect it was a company founded by a crazy 19th century prophet who saw the future, but only vaguely, and so ended up with what looks like a typo. It should read WWW.COM)
WOOSTER, OHIO and WOOSTER PAVER
Wooster Shale Brick Company, Wooster, Ohio. One of these comes from my daughter, a student at the College of Wooster. It's something of a tradition there for departing seniors to take a brick from a certain walkway. Most of the WOOSTER PAVER blocks I pulled out of the Dugway Brook just down the street from my house.
WYANDOT
Wyandot Clay Products Company, Upper Sandusky, Ohio
I have not yet conclusively identified these bricks, but due to their distinctive markings, I believe I can refer to the first as a "thrice-pimpled frog" and the second as a "bifurcated deep frog." (The "frog" is the technical term for the indent. When a bricklayer builds a wall, the mortar on the top of a course of bricks is pushed down into the frogs, locking those bricks to the course above. This prevents any slipping or sliding horizontally.)
Happy bricking!
---
Christopher Cotton